9th July, 2020 was the last when I spoke her!
My Grandma was amazing progressive and special person!
I want to tell you a few things before you start reading this post.
This is going to be a slightly long post. This is not about parenting. I am going to pour my heart out. My mind is flooded with memories and flashes of vision from the past. 
My mom told me that dadima  wasn't her usual self. I was worried and I called her instantly. She spoke to me. She asked me about my work and also asked me to come and see her soon. She didn't sound like my usual energetic and happy dadima. She sounded a little tired and weak. But I was glad that she was speaking with me and was talking sense. 
Today as I sit here to write this note she is on her celestial journey to a new unknown place. But I am sure that she is going to rule that place too. It's true that the best place to be a king/queen is in your own head. My dadi never thought of herself as anything less. 
She was graceful and elegant like no other
She has always inspired me and many more with the grace and elegance with which she carried herself. She used to read the Ramayan everyday. 
When I was little, she told me it is our duty as a girl to get ready every day. God has gifted us with a beautiful face and it is our responsibility to take good care of it. She always did what she taught. She looked stunning in anything and everything that she wore. 
After my grand dad left us I had a chance to sleep with her for a few months. Those few months were incredible. She was the coolest dadi. 
She was so much fun
She spoke to me about my friends who were boys, she asked me if I wanted to marry any, she also swiped left and right like tinder and rejected/ approved a few. 
She loved fashion and kept checking new styles on my phone. 
She told me some of the most amazing stories from the past. 
She was very forward looking
She told me that people from her days had very few expectations but were very less tolerant. She said people have calmed down significantly because they have things to keep them busy, she said people have become more productive and less busy. She was definitely a very forward looking lady. Super progressive in her thinking and behaviour.
She loved to experiment new things. She loved wearing dresses and Salwar suits. She felt a little shy though. However, she always went ahead and did what she wanted. 
I have definitely learnt one very important thing from her. 
She knew how to love herself first
Your life is your responsibility. You are responsible for your own happiness. She took such good care of herself even at the age of 82. She loved celebrating her birthdays. This is an image from her last birthday with us.
She got married to my grand dad at the age of 13. She had only studied till standard 3 and knew very little English. However, she took English classes after getting married (wasn't very simple in those days) and learnt how to understand and speak basic English. 
She was never very fond of cooking. However, sometimes she did cook Tomato Surprise and made kulfi for us when she was in the mood. She loved watching movies and gossiped about almost anything. 
She was so disciplined and punctual
She was so content in her own space. She had the most disciplined life possible. She had eight small meals in a day and this she continued till her last day with us. The menu, quantity and time everything was fixed. 
I will probably share her meal plan with you some other day. It is the most detailed and healthy plan I have ever seen. She made this on her own. She never visited a dietician.
She was a confident, independent and a high spirited lady. She never really passed on her pain to anyone else. She did go through some pain. The pain of losing grand dad (Dadaji) and the pain of not being able to live with both her sons. However, she always stayed composed and had a beautiful smile on her face. 
She was a huge Krishna devotee
She was a huge Krishna devotee and played with her ladoo Gopal like young girls play with dolls. She took Ladoo Gopal on holidays, weddings and also changed him into a night suit at night. She had winter, summer and spring clothes for him. She got real jewellery made for him and had a full meal plan for her Ladoo Gopal too. 
She was cute, kind, humble, strict, forward looking, disciplined and a lot of fun. 
When I was a kid I used to steal raisins (kissmish) from here cupboard. She definitely saw me but always pretended like she didn't. She made the most amazing onion pickle and I am sad that I will never get to taste it again. 
She was stubborn in a cute way
I remember how I used to pray with her everyday before leaving for school. She used to put tikka for me and I used to keep saying no to her because friends at school would judge me. But she obviously didn't listen hahaha and I used to wipe it on my way to school. 
Every time I fell unwell as a kid I used to only sleep with dadima and dadaji. They used to read stories to distract and entertain me. Nobody can ever love you like a grand parent. Their love is just so pure and selfless. 
Visiting doctors was her favourite thing
My dadi just loved going to doctors and wanted to see a doctor almost every week. She had absolutely no problem and even the doctor found it amusing when they saw her. My mom had a side conversation with the doctor and explained to him that he mustn't prescribe any medicine since she was absolutely okay and did this just for entertainment. 
She was sometimes very funny. I remember once after I had finished my masters and come back to india, she wanted to see a doctor. I went with her. She asked the doctor to find a boy for me. This was just very embarrassing and we had a small argument. I told her that she should never to do this again. She however, had her full detailed explanation. She said that only very rich and good families see such doctors and that a doctor is more likely to find me a better guy than our immediate relatives. 
Match fixing was her next favourite thing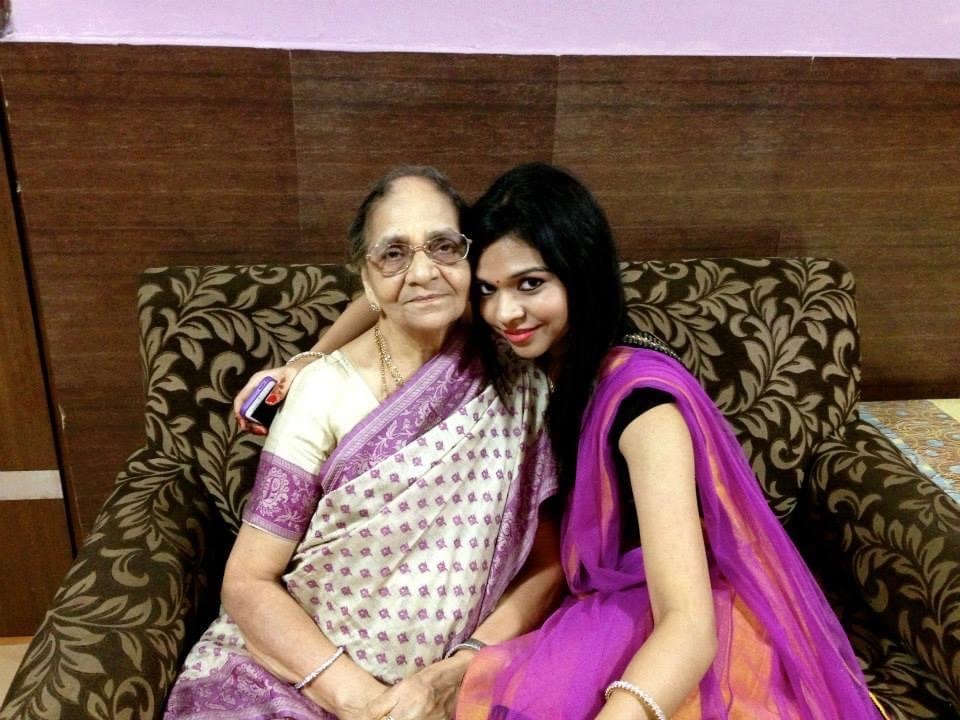 Visiting doctors was definitely the first. She used to try and fix boys and girls from her different groups. She just spoke about it and never really look any action though hahaha. This kept her entertained. 
She loved working women and would have made an amazing entrepreneur if she wished for it
She just loved women who work. She always took my monthly sales figure and checked on my work progress. She was full of new ideas for my business and passed on my business card to almost everyone she met. She was so proud of everything I did. My biggest supporter and guide. 
She loved collecting trinkets and had so many boxes in her cupboard. I remember as a kid she used to show me so many old coins and photo albums. There is something so simple and authentic about old pictures. 
Life is not going to be the same for sure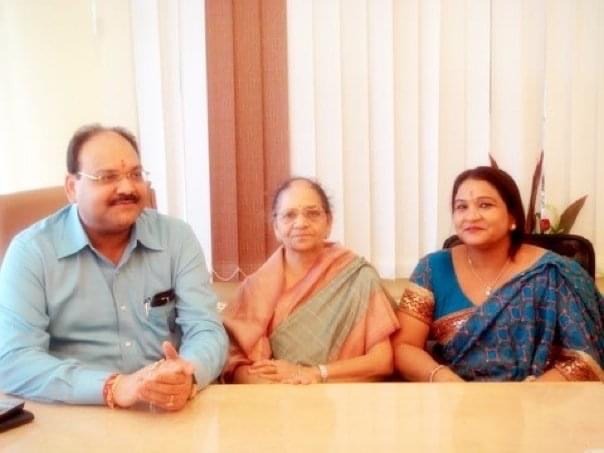 All our pujas and going back home will never be the same again. Every-time I went home, she used to be waiting at the door and immediately hugged me the minute I entered. I am going to miss the hug, I am going to miss her smiling face, her tomato surprise, her kulfi, her gossip and going to the doctors with her. 
She left us as gracefully and as elegantly as she lived. 7th July 2020 she behaved differently. She ate normally and slept more than usual. She spoke very little and didn't gossip at all. 
My parents immediately called the doctor. They asked to get a few tests done. Everything was more than normal as per the tests. My parents worried a lot now. She only ate, took her usual medicines and slept. She barely spoke. The doctors asked for a CT scan. 
On 11th July she got up in the morning. She hugged my mom and pulled her cheeks. She shook hands with my father and wished him good morning. She then blessed both of them. 
She was powerful and resilient
In the afternoon my mom took her to the doctor for a CT scan. The scan results were very bad. The doctor was shocked that she was still sitting and being able to react. He said that with so much brain damage no normal person could respond or understand. He was amazed by the strength that she showed. 
The doctor said that she might suffer more and might even have to be admitted. My mom told the doctor that she will do anything that is necessary. 
My dadima and mom came home. As soon as they came home, dadima went to the washroom. She then requested to be seated on a chair in the temple inside our home. 
She sat there with her Ladoo Gopal and within the next five minutes started off on her new journey. 
She was self reliant and independent
She didn't trouble anyone even for a single day in these 82 years. She did everything on her own. She lived like a queen and did everything that she wanted. She was a happy, pleasant and a pure soul. 
I am sure she is going to brighten the new place again with her positivity, sweet smile and never ending zest to live & learn. 
I miss her touch. I miss hugging her and I miss  being around her the most right now. 
I will keep her in my heart forever and ever. There is no one like her for me. This is definitely the greatest loss of my life. However, I am going to stay calm and happy, because I am sure she wouldn't like it any other way.