Developing memory skills by using toys and games is valuable for children. Choose the best toys that will improve your child's memory. Toys have a huge impact on our children's memory. 
Did you know we have different types of memory? 
Short term memory, long term memory, Visual memory means remembering by an image, auditory memory means remembering by sound, and kinesthetic memory means remembering by incorporating movement such as yoga, dance, etc. Hence, it very essential that we introduce our children to toys that stimulates all these different aspects of memory. 
A small effort on our part as a parent can go a long way in encouraging our children to exploit their full potential. 
It's important that we introduce them to these toys, but it is also important that we don't force them. By forcing we only move them away from it. 
I am going to now tell you what are the top 10 toys that will help improve your child's memory. I have used these toys and have seen the benefits on my son. 
Stay with me till the end. You cannot miss any of these for sure-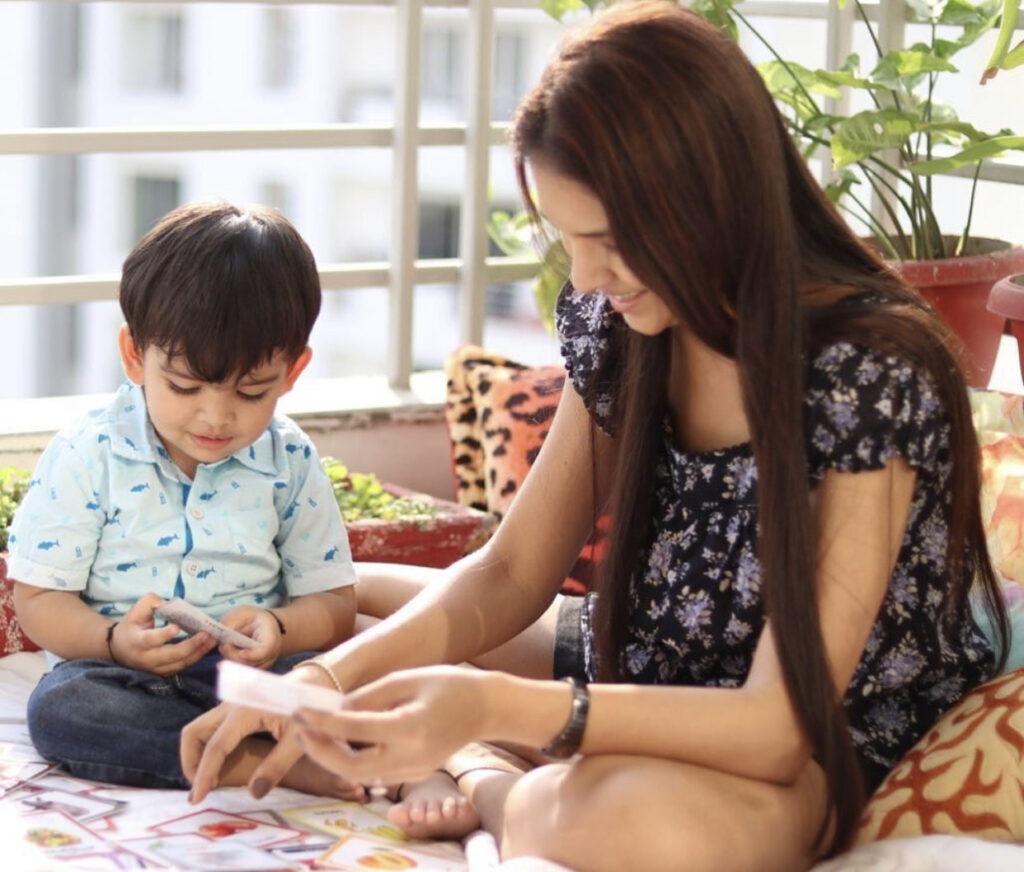 Flash Cards 
Flash cards are effective memory-aid tools that can help children learn new material quickly. Flashcards are the best portable toys and really improves efficiency when learning new things. I had introduced my son, Veer to flashcards when he was just 8 months old. All you need to do is show them the image and say the world aloud. Kids learn the best by watching. This has a great impact on their visual and auditory memory. I have tried several flash cards. 
I am listing my top three for you here. You can explore different topics each month 
Shumee Double Sided Flashcards
Imperial English Uk Essential Flashcards
Kyds Play – Combo – Alphabets + Numbers + Colours & Shapes, Wipe & Clean Activity Flash Cards
Stacking Toys 
Stacking one object on top of another is one of the important baby developmental milestones.
8 – 12 months is the correct age to introduce your children to stacking blocks. They start with 2-3 blocks but as time progresses and they grow, they stack more pieces very easily.
This may seem like a very simple play but helps in the development of important skills like learning how to solve problems, developing the brain's creativity, and practicing fine and gross motor skills. 
Links for my favourite stacking toys are –
Fisher-Price Brilliant Basics Rock-a-Stack, Multicolor
Giggles Stacking Barrels, Multi Color
Funskool Giggles Stacking Cubes + Kiddy Star Links
Shape Sorters 
There are many varieties of shape sorting toys available. The shape of the container and pieces, the material, and the difficulty level are several variables to consider. Some sorters are made of wood, others of plastic.
Shape sorters are classic educational toys that teach children about shapes and colours while helping in the development of fine motor and problem-solving skills.
Links for my favourite shape sorters are – 
E shopping Wooden Geometric Shape
Toyshine Wooden Shape Sorting Blocks
Toyshine Wooden Four Column Geometric Blocks Building Stacker Shape Sorter
Toyshine Big Size Hard Wood 12 Piece Colorful Wooden Domestic Animal Themed Jigsaw Puzzle
Matching and Memory Games
These games are so important. They help to improve concentration, train visual memory, increase short term memory, increase attention to detail, improve the ability to find similarities and differences in objects, help to classify objects that are grouped by similar trait and improve vocabulary. 
Links for my favourite memory matching games – 
Funskool Peppa Pig Memory Game
Dominoes 
Dominoes is an ideal game to play with kids, because the rules are simple. Older children can play this game with adults without feeling as though their age puts them at a disadvantage. Young children can benefit from playing dominoes as they learn to count and to recognise patterns.
Link for my favourite Dominoes are –
Toyshine 28 Pcs Printed Educational Wooden Toy Domino Animal Puzzles
Generic Imported Authentic Standard Wooden 12 Colors Set
Magnetic toys 
Magnets are one of those magical toys that everyone loves. Children love them because they are intriguing, yet easy to master. Parents love them because they can use magnets to help their children develop a variety of skills. I especially love them because they involve children in active, hands-on learning activities.
Fun with Shapes Type 1 ( 44 Colorful Magnetic Shapes )
Play Panda Magnetic Learn to Spell : Animals with 32 Picture Magnets, 72 Letter Magnets, Magnetic Board and Spelling Guide
SYGA Wooden 26 English Upper Case (A to Z)Alphabets Stencils Letter Refrigerator Fridge Stickers Toys
Sticker Activities 
Stickers help children to discover smooth, puffy, scratchy, and fuzzy textures. Kids are very motivated by stickers. A sticker can be used as a reward for a child. Playing with stickers can help kids with so many skill areas. Helps in bilateral hand co-ordination, visual scanning and sensory explorations. 
Melissa & Doug Sticker Collection Book; Arts & Crafts; Princesses, Tea Party, Animals, and More (500+ Stickers)
Melissa & Doug 4190 Sticker Collection-Fashion
Musical Toys 
Babies, toddlers and older children can all benefit from playing a musical instrument. Musical toys speeds up brain development, helps with sensory development, build upon gross and fine motor skills, assists with developing self-confidence and decision making and improves listening skills. 
Links for my favourite musical toys – 
Crafts India Wooden Xylophone Musical Toy with 8 Notes for Kids, (Multicolour)
Zitto Drum Keyboard Musical Toys
Galaxy Hi-Tech® aby Activity Cube Toddler Toys – 6 in 1 Shape Sorter Toys Baby Activity Play Centers for Kids Infants Educational Music Play Cube Preschool Toys for 1 2 Years Old Boys & Girls Holiday
Super Toy Animal Sound Piano Musical Toy For Kids (Multi-Color)
Lego and Blocks 
Building blocks or unit blocks encourage kids to cooperate with others who play with them and this inculcates a feeling of sharing and friendship. These also help them to develop their problem solving skills and enable them to be comfortable in groups. The importance of block play in early childhood cannot be denied. For preschoolers, building blocks will help pave the way for more complicated problems in the future.
LEGO Classic Creative Bricks Building Blocks for Kids ,Multi Color (221 pcs) 10692 by LEGO
Lego Classic Creative Brick, Multi Color 484 pcs
LEGO Classic Bricks and Eyes Building Blocks for Kids (451 Pcs)11003
FunBlast Building Blocks for Kids – 72 Pcs, Big Size House Building Blocks with Windows, Block Game for Kids,Boys,Children (72 Blocks)
AdiChai 100 Pcs Blocks Toys Building and Construction Block Set More Bricks & Shapes, Interlockig Connection Educational Toy for Kids (Multicolor)
Puzzles 
Puzzles present many benefits for children as they develop. Children usually start out with simple knobbed puzzles that are outlines of simple shapes that fit into corresponding board cutouts. From there they go to more complex puzzles where they need to connect different patterns and gradually move towards more number of pieces. Puzzles encourage problem-solving skills, cognitive skills, fine motor skills, hand eye co ordination and social skills. 
The links for my selections are – 
Frank Animal Friends Puzzle for 3 Year Old Kids and Above
FunBlast Tangram 7 Piece Color Wood Puzzle Brain Teaser Jigsaw Intelligent Toy
POLA 3 in 1 Tiling Jungle Jigsaw Floor Puzzle Combo for Kids Age 5 Years and Above, 37 x 24 cm – Pack 60 Pieces
Frank Peppa Pig Puzzle For 5 Year Old Kids And Above
Activity Table 
A sensory table is basically a table full of materials that get children to use all five senses. The table is set up to let children learn and engage their senses by interacting with everything that is being presented to them. Here are seven benefits of letting children play with a sensory table.
Cable World® 2 in 1 Musical Learning Table Early Educational Development Activity Center & Multiple Modes – Assorted Color
LeapFrog Learn and Groove Musical Table
Conclusion 
Hence, toys engage our children's senses, spark their imaginations and encourage them to be creative. Babies are eager to learn about the world around them. Every new shape, colour, texture, taste and sound is a learning experience for them. It is our responsibility to expose our children to not just any toy but to toys that actually help their development.